Showroom Transport will proudly arrange the transport of your RV. We cover all 48 Continental U.S. States and to/from Hawaii.
Instant shipping coupon after submitting quote form!
If you do not see the quote form just below, click here to get quote<
Below is a list of some of the recreational vehicles we transport:
If you need to ship a motorhome up to 34 feet in length, we use a lowboy trailer to move your rv motorhome: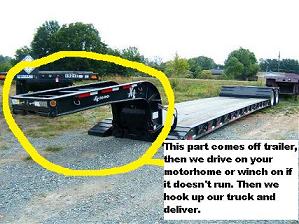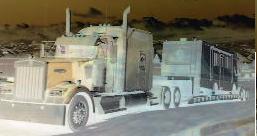 Showroom Transport arranges for the right carrier to haul your Recreational Vehicle.
Motorhome Shipping:
Due to the fact that we will be using a rgn trailer to haul your motorhome, (which is only set up for certain size motorhomes) certain specification restrictions apply for us to move your motorhome. Your motorhome will not be towed by our company. Your motorhome will be placed on top of our trailer.
We use flat bed trucks, low boy trailers, Step Deck trailers, Double extendable drop trailers, Vessel Trailers, Multi-Axle Extendable Step Deck trailers. Open Car Carriers, Enclosed Car Carriers. We have power unit only vehicles.
We can tow your Recreational Vehicle.
Whatever your vehicle is we have a truck designed to ship it.
Showroom Transport is a Nationwide Transport Company. We have handled the transport for automobiles, construction or farm equipment, boats,jetskis, trailers, etc... for many years. We are open 24/7.
Showroom Transport is licensed with the Federal Government, Insured and Bonded.

We invite you to talk to a sales representative, available 24 hours a day.